With this option you can close WordPress popup not only by click on close button, but on click outside popup. Check the Click Outside Popup.
Enable "Click Outside Popup" option in the When to close PopUp section on the main tab of WP Popup maker plugin by Supsystic.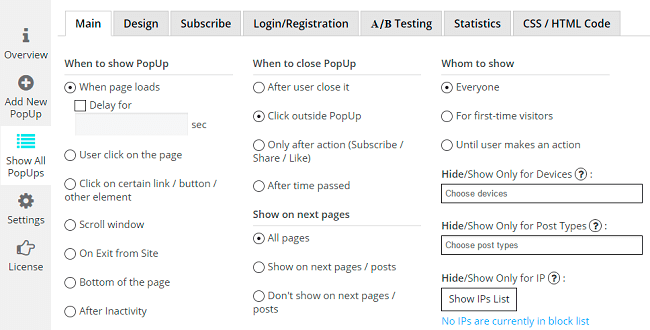 Another Popup configurations and triggers.
Click Outside Popup option will be ideal solution if you want to create unobtrusive popup for your users. They will be able easily getting rid of it. Also "Click Outside Popup" of Popup maker wordpress plugin will be useful for popups on mobile devices, where it is much more difficult to click on close button. The main problem with most popup plugins is that they can become very annoying for users. Don't let your users have a negative impact on your website. Choose WordPress popup plugin by Supsystic, make all the settings according to your needs and let him do all the work instead of you. Popup by Supsystic lets you easily create elegant overlapping windows with unlimited features. Popups with Subscription Forms, Social Buttons, Contact Form, Google Map, Slider, Lightbox and more. Popup maker with live preview lets you customize pop-up templates without programming skills. Plugin allows you to create popups with any type of content. Make your choice, engage the visitors of your website.