Popup email forms have huge potential when it comes to list building, and even if you hate them, there's no doubt that they work. Professional bloggers unanimously agree that they increase subscription rates, and have had great success with them.
With Popup by Supsystic you can collect subscribers through the –
WordPress
Constant Contact
arpReach
SG Autorepondeur
Mailrelay
iContact
InfusionSoft
SalesForce-Web-to-Lead
ConvertKit
Emma
On the Subscribe tab you will be able to enable subscription option for popup. WordPress is selected by default for Subscription.
If you select subscription to WordPress, you have the ability to –
Create users after subscribe with special roles – Subscriber, Author, Contributor etc.
Create Subscriber without confirmation.
Export all subscribers, who subscribed via WordPress. Export in csv file.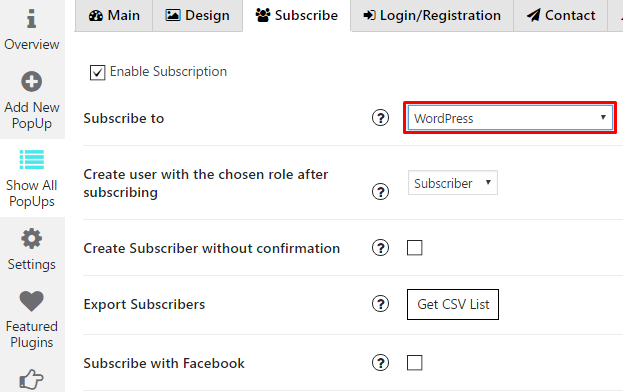 Note: To find your subscribers go to Users tab on the left navigation menu of WordPress. Each profile of subscriber contains information about user email.
Also on the Subscribe section you have several opportunities:
Enable Subscription with Facebook (PRO feature). This option adds button to your PopUp with possibility to subscribe just in one click – without filling fields in your subscribe form.
Activate subscription fields. Email field is mandatory for most of subscribe engines – so it should be always enabled.
Add new fields to Subscribe form (PRO feature). For more details – read Subscribe Custom Fields Builder article.
Test Email Function – email delivery depends from your server configuration. For some cases – you and your subscribers can not receive emails just because email on your server is not working correctly. You can easy test it here – by sending test email. If you receive it – this will mean email functionality on your server works well. If not – it is not working correctly and you should contact your hosting provider with this issue and ask them to setup email functionality for you on your server.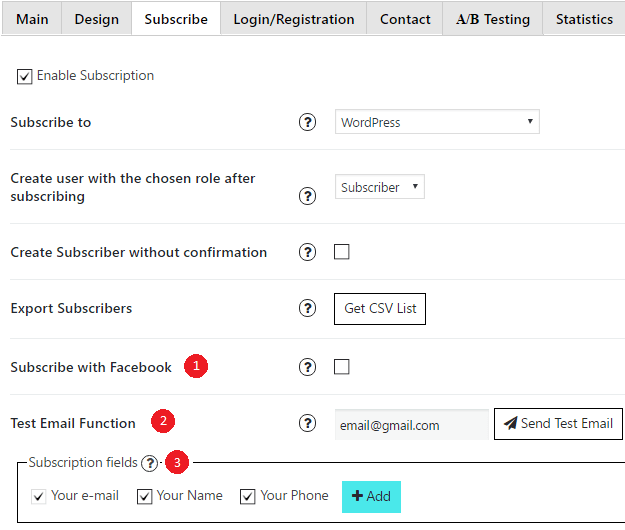 Besides for
WordPress, MailChimp, MailPoet
and
Jetpack
subscription available such options –
Blacklist (PRO feature) – you can add emails, or email domains, into blacklist – and they will not be able to subscribe.
Set the "Blacklist error message" (PRO feature) – error message, that user will see if he / she email is in Blacklist.
Set the "Confirmation sent" message – a message user will see after subscribe.
Set the subscribe success message – this message will be shown right after subscriber will be created and confirmed.
Set the email error message – if email, that was entered by user, is invalid – user will see this message.
Enable redirection after subscription, just enter URL that you want to redirect to after subscribe – and user will be redirected there. If you don't need this feature – just leave field empty.
Set submit button name – a text your subscribers will see on the button.
New Subscriber Notification – enter the email addresses that should receive notifications (separate by comma), leave it blank and you will not get any notifications.
New Subscriber Notification Subject – subject in emails about new subscribers.
New Subscriber Notification email text – text of the message you'll receive about new subscriber.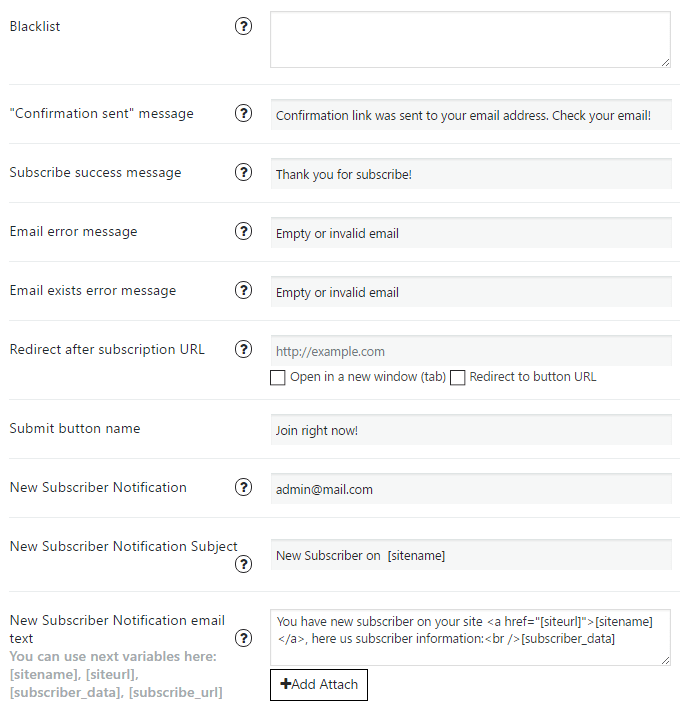 These are visible only for subscribe to
WordPress
–
Specify the confirmation email subject
Set the confirmation email From field
Specify the confirmation email text, where you can add attached files
Set the New Subscriber email subject
Set the New Subscriber email From field
Set the New Subscriber email text, where you can add attached files
Redirect if email already exists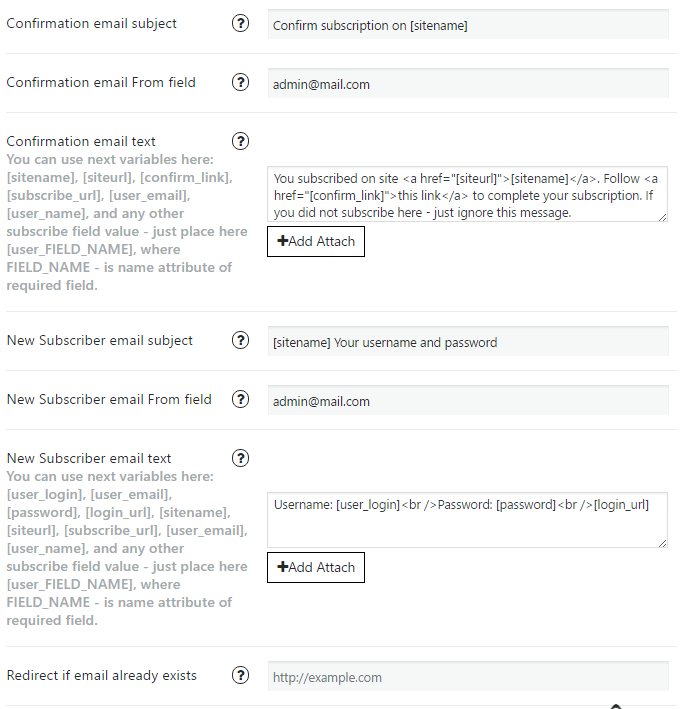 Here is a short video tutorial how to set the Subscription Popup:
We offer a huge amount of popup customization. You can display the popup window box on the left, right, or middle of the page. You can also adjust the height in which the popup box is displayed, the width of the box, and the number of days the popup modal windows box stays hidden if a visitor closes it. The popup modal box can be shown on posts, pages, and/or the home page. All this features available with
WordPress Popup Plugin
by Supsystic.
In the Popup plugin settings area, you can choose popup template and enter the content that is displayed in the box. You are not restricted to display a popup newsletter sign up form. You could also use it to display a banner or a simple message to readers. Social media sharing buttons can be enabled in the box through the settings page and there are four different colour schemes available too. Alternatively, you can style the box using custom CSS. Check WordPress Popup Plugin Examples.